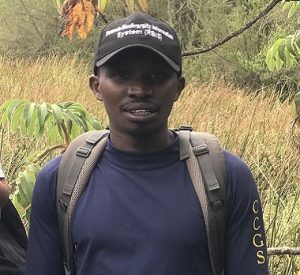 Associate Collection Manager

sibomanapascal20@gmail.com
Telephone: +250 788972003
ORCID #: 0000-0001-6747-3871
Research Gate | Bionomia
<Curriculum Vitae 2023 >

Work Experience
Herbarium Associate Collections Manager and Honorary Research Fellow
Center of Excellence in Biodiversity and Natural Resource Management
University of Rwanda
PO Box 512
Huye, Southern Province, Rwanda
Biography:
I am currently pursuing Master's degree in Biodiversity Conservation and Natural Resources Management at the University of Rwanda. I previously received a Bachelor's degree in Conservation Biology, and am a nature enthusiast. As the Associate Collection Manager for the National Herbarium of Rwanda, I am manage the specimen field collecting, mounting of plant specimens, and databasing specimen records using Symbiota software. I have great interpersonal skills and am a team player. I am fluent in both Kinyarwanda and English languages.
2022-2023 Projects
Water Lily propagation and species recovery project
Herbarium specimen digitization and data entry
University Arboretum
2022, 2023 Summer Biodiversity Field School – plant specimen collecting
Education
2022-present MSc. Biodiversity Conservation and Narural Resource Management, University of Rwanda, Huye
2015-2019 BSc. with Honors in Conservation Biology, University of Rwanda, Huye
Thesis: Diversity of small mammals according to habitat type and disturbance level in Arboretum of Ruhande.

2012-2014 Groupe Scolaire Saint Joseph Kabgayi (Advanced level)
Qualification – Completed Mathematics, Chemistry, and Biology (MCB) combination.
2009-2011 Groupe Scolaire Marie Merci de Kibeho (Ordinary level)
Ecole Primaire de Ngoma Adventiste
2002-2008
Qualification – Elementary education studies.
Training

2023 Certificate of Completion – Preserved Plant Specimen Collector Training



2023 Certificate of Completion – Georeferencing for African Specimens, Univerity of Kansas
2021 Certificate of Completion – Strategic Planning for Herbaria offered by iDigBio and the Society of Herbarium Curators

2021 Certificate of Attending – Justice for Peace through Traditional Knowledge Systems and Conservation: Recognition, Revitalization, and Reconciliation Kigali-Rwanda 16-18 June
2020-21 Certificate of completion: Site manager at One Acre Fund Rwanda, Agroforestry Trees Distribution
Publications
2023 ICCB Conference Poster presentation, July 23-27, 2023, Kigali, Rwanda
– Download PDF: A Species Recovery Plan for the Extirpated Rwanda Water Lily (Nymphaea thermarum).
2022 Conference

Poster presentation:

Taking Action in Conservation of Mountain Rainforests, Kigali, Rwanda
– Download PDF: Developing the National Herbarium of Rwanda
Recipient of Best Poster Award


Herbarium Specimen Dataset, #1- 210