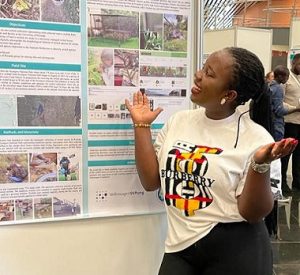 Associate Collection Manager
Telephone: +250 788 349 999
usandry8@gmail.com
ORCID #: 0000-0001-6747-3871
Research Gate
<Download CV pdf>
Herbarium Associate Collections Manager and
Honorary Research Fellow
Center of Excellence in Biodiversity and Natural Resource Management,
Univ. of Rwanda
PO Box 512, Huye, Southern Province, Rwanda
Aime Sandrine Uwase is a graduate in Botany and Conservation from the Biology Department, College of Science and Technology at the University of Rwanda. She is currently pursuing her master's degree in biodiversity conservation and natural resource management at the University of Rwanda. Sandrine started working at the Center of Excellence in Biodiversity and Natural Resource Management (CoEB) during her academic internship in 2019. During this internship, she worked in the National Herbarium of Rwanda (NHR), where she learned to mount botanical specimens, manage the collections, and oversee the digitizing and barcoding process.
After completing her BSc studies, Sandrine was appointed as an Honorary Research Fellow at CoEB, where she has taken on significant responsibilities in coordinating NHR activities. Since her appointment as an Honorary Research Fellow, Sandrine has participated in various projects related to climate change and adaptation. She is responsible for conducting tours of the herbarium for visiting researchers, government officials, and students. In addition, Sandrine oversees the daily workflow of the herbarium, trains academic and professional interns in all aspects of the herbarium workflow and specimen management process, and interacts with many visiting professionals. Additionally, Sandrine was able to attend the UNFCCC 58TH SESSION OF THE SUBSIDIARIES BODIES (SB58) in Bonn, Germany, in June on behalf of Rwanda.
Currently, she is actively involved in the Policy and Science program in Rwanda.
2022-2023 Projects
Herbarium specimen digitization and data entry
2022 Summer Biodiversity Field School – plant specimen collecting
Education
2022-present MSc. Biodiversity Conservation and Narural Resource Management, University of Rwanda, Huye
2015-2019 BSc. with Honors in Conservation Biology, University of Rwanda, Huye
Thesis:

Certificate of completion – Georeferencing for African Specimens, Univerity of Kansas
Certificate of completion – Strategic Planning for Herbaria offered by iDigBio and the Society of Herbarium Curators
Spring 2021
Publications
2022 Conference Taking Action in Conservation of Mountain Rainforests, Kigali, Rwanda
– Developing the National Herbarium of Rwanda
Recipient of Best Poster Award